Firstly, I must apologise for the rushed nature if this post! It's Valentine's Day and there's only so long I can pretend to be sitting on the toilet!
Today was a very important day for so many reasons!
To think that just over 14 months ago, Heathfield didn't have any blogs is virtually unbelievable. Those of you reading this will no doubt know the story so far so I won't bore you with the details, however, the developments over the last few days have been monumental!
Not long ago, Heathfield Primary became an affiliated SSAT Primary school – Something EVERY school should consider doing! The SSAT are an organisation that have expertise oozing through their veins. Through this affiliation, Heathfield were able to support and guide Heathfield into a position to showcase blogging and the fantastic impact it is having on our school community.
On Friday 11th February, Heathfield were featured in an article in the Independent. At about 12:10pm the phone started ringing…
BBC Breakfast News were the first to contact us, followed by Channel 4 News at 12:40pm and then BBC Radio 4 at 12:45pm. The chain of events that followed were exciting and also slightly comical!
I had been invited to give a talk to the PGCE students at Manchester Met University so had to dash out of school. During the journey, I spoke to BBC Radio 4 on the phone who REALLY wanted to get an interview for their 10 o'clock news show that night on Friday – So much so, that they put on a car to pick me up from MMU to take me to the studios in Manchester and back to MMU when finished. These things just don't happen to teachers! However, just as I was being driven into the studios, BBC Radio 4 called me to explain the President Mubarak had that minute stepped down and all radio space would be devoted to this story! The driver turned the car around and took me back.
The BBC Breakfast News were still looking to secure a time to do some live filming from school, as a result, my return journey was spent talking to Miss Wiggans and Miss holland trying to secure permission from a selection of pupils giving permission for those pupils to appear live on the BBC! By 6:00pm on Friday night, we were sorted:
BBC Breakfast News would report live from Heathfield at 7:20am and 8:20am and be gone by 8:45am. The only thing left to arrange was the finer details which they told me would be discussed over the phone on Sunday. After an hour's phone call on Sunday night with the BBC we were both clear as to what the general format would be. I was happy and they were happy!
After not sleeping for more than 10 minutes at a time, I was up at 5:15am to get sorted and into school for 6:20am so that the Satellite truck could get set up. I was very lucky to have Miss Holland in school who beat me in and had unlocked the school 5 minutes before I arrive (Thank you Lou!)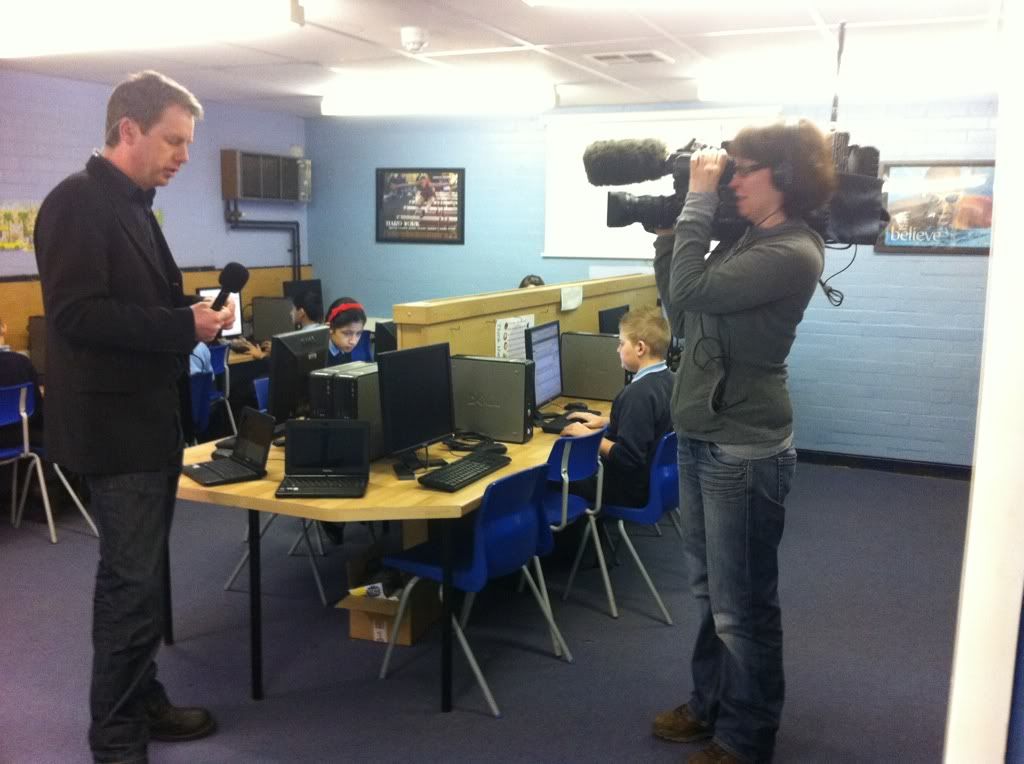 Within a few minutes, Graham Satchell (BBC Reporter) arrived and started to run through the format of the live reports with the pupils and myself. This was REALLY interesting to watch and the pupils were fascinated to see and hear what reporters have to do behind the scenes. As I write this post, my mind is racing as to how this could be used in the classroom for a writing opportunity!
At 7:20am, it all started on BBC1! please watch the video of all the clips below:
Thanks to Simon Haughton for uploading!
Tomorrow sees the local BBC North West team visit for some live filming from 13:30 and record some footage for their evening show at 6:30pm. Channel 4 sent me a lovely text message saying that they ahve had to cancel but the WILL be back to film us soon. the Radio 4 interview is still in the pipeline so please stay tuned! There's more to come and if only I could get all the pupils to have their say…we'd persuade the nation that:
A real, relevant, engaging, exciting tool like blogging can be used to change learning FOREVER for our young learners!
Radio 5 Live interview with Mr. Mitchell, Miss Wiggans and Thomas!
BBC North West News Coverage: